sigh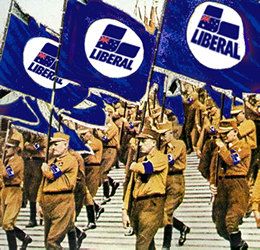 To the folks reading from Australia, unless you come to visit I'll be seeing you in 2007. Petulant? Definitely. Theraputic? Slightly. Shades of Germaine Greer? Unfortunately.
I woke up on Saturday morning in time to see the ABC webstream of Howard's acceptance speech and groan and pull the covers back over my head. Its quite a cause for despair that the ALP has gone backwards not only on the consistent Latham-driven polling lead throughout 2004 but on the 2001 election held in the wake of 9/11.
Lazarus
must have taken a day out before the campaign to not just trim the eyebrows but to install one more ticker tinker, this time the quadruple bypass.
Pic credit:
Enmore Station.