other local boothy calls
DailyKos corresponent Tom Schaller was at a different booth
just down the street in Adams Morgan
:
I live in DC, where almost nothing significant is decided on general election day. At best, you get some hot contests for city council -- though usually those battles are decided between Democratic contenders on primary day. As for presidential contests, the District is the antithesis of a swing state: It was carried by the largest margin of any jurisdiction in 2004 (Gore by 76.2%, which shames even Bush's Utah margin of 40.0%).

And yet the lines at my local polling station in the Adams Morgan section of Northwest DC look like scenes we've witnessed from TV broadcasts in Broward County, FL. I went to the front of the outside portion of the line at my voting location at 7:50, and the woman there said she began waiting at 6:50. The line wrapped around the block, and the next (shorter) block, probably 250-deep. The only explanation I can muster is that people here want to post the highest Kerry national vote winning margin possible, because the three electors are a lock.
As I said in the audio below, one woman in the line I was with said she hadn't seen turnout here in DC like this in the 15 years she has been here. Lets hope that Democrats throughout the country are equally fired up and out there!!
Check out these instructions for the touch screen voting though - hope the size/res is OK. It doesn't look a cinch with no less than seven steps of instructions to follow - and the instructions in spanish on the opposite side were somehow even longer and in a smaller font. There is no paper trail generated either after you vote. (At least regular paper ballots are optional here, unlike much of the country... this is a very pro-franchise, benign-for-Dems voting environment!)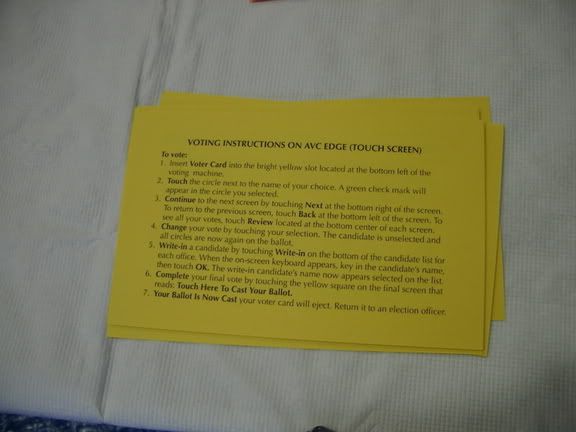 No wonder I saw that old blind guy taken away from the polling booth in an ambulance - he probably got a nasty electic shock when his guide dog read the instructions wrong and pissed on the "Bush" on the touch screen...