oxforward
Courtesy of British Airways I exchanged a blustery Thursday night in DC for a wan English Friday morning sun that couldn't hold a candle to ms. zilla's smile as I met her in the main courtyard of her college.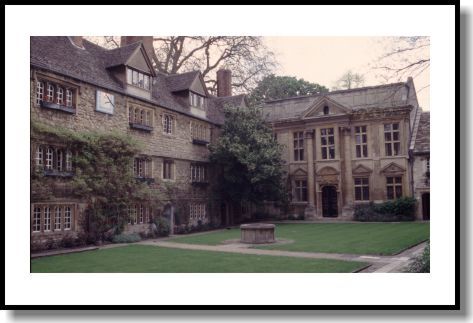 Unfortunately I couldn't persuade her to carry me -- or preferably all my luggage -- across the threshold of our digs in North Oxford, as instead I was just in time for a hasty introduction to the lore and lingo of the Christchurch regatta. At first I thought all the casual discussion about catching crabs was a strange abberation in the stereotypical English character, to learn with much mirth this is actually a term for
poor technique in dipping one's oar
, rather than poor a selection of the, err, waterway in which to dip one's oar.
I'm back in mirrorworld and looking the wrong way before I cross the street again. Coins are bigger, prices are higher, but at least the streets are narrower and less festooned with SUVs than the nightly Connecticut Avenue commuter monster truck rally.
Unfortunately one of the aforementioned crabs was a fierce blighter and managed to catapault one of ms. zilla's teammates from the boat and into the drink twelve strokes into the repecharge race, putting something of a dent in their ambitions to reach the regatta's final day of competition. Teddy Hall's loss was my gain, what a shame, what a shame, as we got reacquainted and put in a concerted effort to gad about the town yesterday (Saturday). Her company is a treasure and I'm still quite perplexed how we managed to be a few thousand miles apart for almost the entire the last two years. Any comments about the mouths of gift horses will get me belted with a rolled up newspaper when she reads this, so shhh.....
Following on we rolled up to the post-regatta Saturday night jacket and tie function at the
Mitre
- where they've been pulling beers for students since 1261 AD, and were immediately fined (one drink, to be consumed immediately) by the master of ceremonies for being
from the southern hemisphere.
Again, what a shame. The delightfully refreshing (or is that refreshmanlike) night ended with the rude mirrorworld reintroduction to the 11pm closing time licencing laws in England, and despite 48% (NB New Mexico results still to be returned) of my mind and body arguing that it was in fact only 6pm we were well ready to turn in.
I've spent today taking care of the first of five job applications around the traps I need to submit by this coming Friday. Life in England begins with a smile that not even the perpetual celestial grey can diminish.