mr zissou goes to town
Lovely lovely Sardinia. Four days of slouching around in the Mediterranean sun was just the ticket. I'd like to thank our sponsors at Ryan Air for their ridiculously cheap tickets, the sunshine that stayed until an hour before we left, and the friendly Sards always being on hand with another bottle of red. After sucking up UK/Oxford prices, I could get quite fond of nonmetro parts of Italy... rounds of drinks with change from 10 Euro? I'll take three! (Even if the bar is called Tabernaque, a name which made Ms Y, our Canadian companion,
laugh
)
Some of the finer views from the medieval Catalan quarter of Alghero: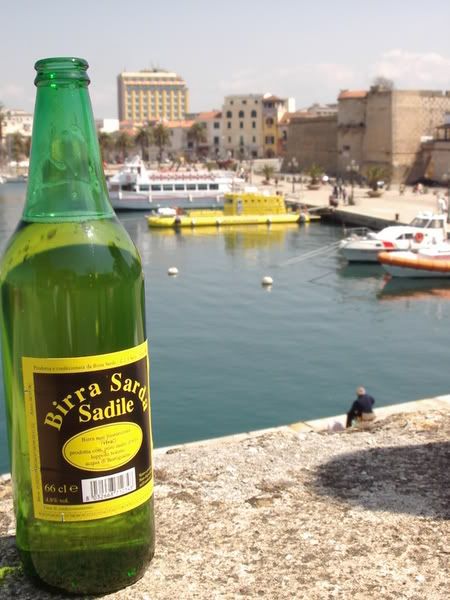 By the time the longnecks were finished that fine craft in the middle distance on the right had been baptised
La Vita Aquatica
and the four of us headed out to sea...
Fortunately we eventually washed ashore just down the coast in the authentic tourist hamlet (complete with cornukitschias) of Bosa in time for dinner...
Fantastic old town, it was very hard to leave, literally: the old guy selling the bus tickets back to Alghero out of his bar wasn't much interested in selling tickets to the day's bus out after midday. Curiously in his crowded cafe/bar, full of only middle aged local men not paying for their drinks, he had three separate drawers for cash transactions but not a euro in change available in any of them. Hmm, sometimes you just don't ask!
Fortunately the UK is still somewhat committed to the EU and the customs laws are non existent, so I didn't have to resort to strapping the nine kilos of salivatingly stinky peccorino cheese to my body to smuggle it back into the country. (By the way, how completely fucked are the Australians caught in Bali this week? And how completely fucked up is it that AFP procedures might have played a strong hand in seeing them condemed them to death?)
Well, good times in this part of the planet anyway, blessings counted and truly appreciated. (Except for that whole Conclave-appointed-by-JPII appointing JPII's pet doctrinal doberman as Pope Benny. Who woulda thunk?) Now its back to crazy busy here, but I've got six great new CDs and a few dozen records to tell you about which I'll try to get around to before long.