swim to the moon
Sure it's easy to have fast downloads with broadband these days, but did you ever wonder how fast the internet can
swim
?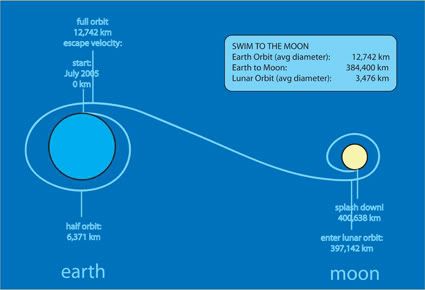 Can you swim? Do you swim laps? Do you swim laps regularly? Know someone who does?
Not content to merely work on her D.Phil as well as collaborate in all kinds of my mischief after hours, Ms Z has decided she's going to
swim to the moon
. Since that's somewhere in the order of about 400,000km or 8 million laps, she's looking for some help. It's early days and so far she and a few friends from here to Philadelphia have made it across central London. I understand the plan is to swim from Waterloo to the Sea of Tranquility, but one doesn't immediately fly off on a tangent of course, it takes at least a lap of the earth to build up a healthy escape velocity...) Head over to
swim to the moon
and see
how it works
if you've got some laps to donate!